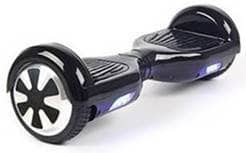 Zulily has made the decision to voluntarily recall its Hoverboards / Self-Balancing Scooters after concerns that the battery packs may overheat. The recall includes all models of their hoverboard/sbs under the brand names Smart Gear, Vertigo and Xtreme.
Consumers should immediately stop using these recalled products and contact zulily for information on a refund: 877-779-5615 Monday-Friday from 5am to 8pm PT, Saturday & Sunday from 6am to 6pm PT, or email recall@zulily.com
Zulily are not the first to go down this route, as earlier this year after many months of safety warnings and reports of fires caused by hoverboards, 10 manufacturers, distributors and retailers issued an official recall of 501,000 hoverboards in the U.S. coordinated by the U.S. Consumer Product Safety Commission (CPSC).
Last year 15000 hoverboards were stopped at British Ports after identifying major safety risks with the boards, including issues with the plug, cabling, charger, battery and cut-off switch, meaning they don't comply with UK or EU standards.
Further information on Product Recalls:
A product recall is a request to return a product after the discovery of safety issues or product defects that might endanger the consumer or put the maker/seller at risk of legal action.
The recall is an effort to limit ruination of the corporate image and limit liability for corporate negligence, which can cause significant legal costs. It can be difficult, if not impossible, to determine how costly can be releasing to the consumer a product that could endanger someone's life and the economic loss resulting from unwanted publicity. Recalls are costly. Costs include having to handle the recalled product, replacing it and possibly being held financially responsible for the consequences of the recalled product.
A country's consumer protection laws will have specific requirements in regard to product recalls. Such regulations may include how much of the cost the maker will have to bear, situations in which a recall is compulsory (usually because the risk is big enough), or penalties for failure to recall. The firm may also initiate a recall voluntarily, perhaps subject to the same regulations as if the recall were compulsory.
Product recalls can be viewed on the CTSI website or this weeks report here from the European Commission.
If you have concerns about a product please contact Citizens Advice in the first instance 0345 4040506