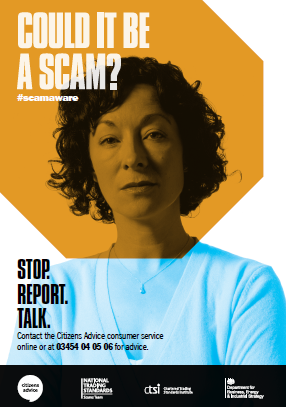 The Citizens Advice Service has launched their yearly campaign for Scam Awareness. The aim is to create a network of confident, alert consumers who know what to do when they see a scam.
Three Key elements are STOP, REPORT & TALK
STOP
Scams are many and varied, with increasing complexity and sophistication. By arming people with the knowledge they need to recognise a scam, they can
protect themselves and those around them, preventing harm in the first place.

We want consumers to know how to spot the warning signs of a scam, and if they think they are being targeted to stop and seek advice on what to do next.

REPORT
Data from a recent Crime Survey in England and Wales suggests that only around 13% of fraud incidents are reported by the victim, either to the police or Action Fraud. With so many scams left unreported, it creates an incomplete picture and reduces the ability of enforcement to effectively tackle fraud across the country.

TALK
Scams can be highly sophisticated and often use social engineering to prey on people. Anyone can be vulnerable to scams, and yet we still don't talk enough about them.

Research shows that those impacted by scams often still feel a sense of shame about falling victim to them. We want to get rid of the stigma around scams and encourage people to work together to stop them.

However you choose to take part in Scam Awareness, you're helping to give consumers the awareness to protect themselves, their families and communities – not just in June, but all year round.
For more information please visit the Citizens Advice website